5 Lawnmower Brands to Avoid
A good lawnmower doesn't come cheap and as a homeowner when you decide to buy a lawn tending machine, you want a machine that will last for years, if not decades.
Due to this, you want to buy the best machine in the market.
While manufacturers have invested heavily in technology and most of them are producing high-quality machines, there are some lawnmowers that are so poorly produced that you will be ticked just hearing their name years after disposing them off.
You don't want this, do you? To help you out, here are 5 lawnmower brands to avoid: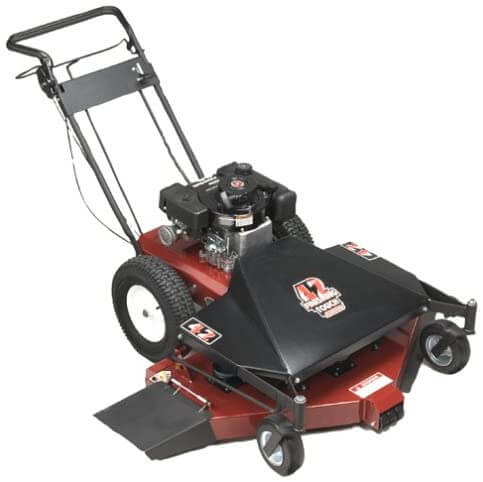 Unlike other lawnmowers that come with a direct drive system, this one comes with a belt system that is difficult to set up properly for any average homeowner to get the lawnmower going.
A friend joked that to get the machine going, you need some magical powers.
If this is not even enough already, the brand Swisher doesn't have enough dealers, so when you want to service the machine you have to transport it long distances. The experience is even worse if you want to replace parts.
Lastly, the mower lacks a bag so you have to come back to collect the cut grass once you are done with mowing, which as you know sucks.
You are tired and sore from mowing, and all you want when you are done is a cold beer. Not to come back and collect the clippings you left behind.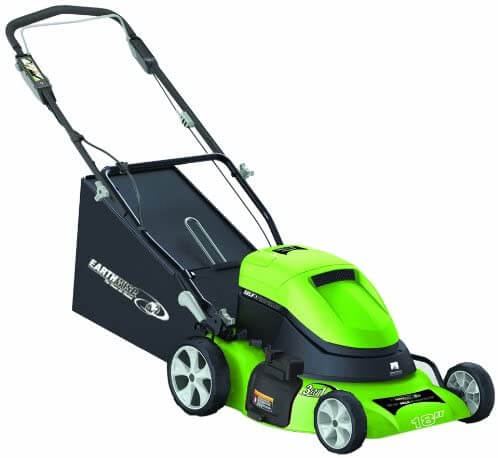 If you have a large yard or your yard is uneven, stay away from this lawnmower. First of all, the battery doesn't hold charge for a long time, so you have to charge it many times to complete mowing your average yard.
I have about 1/8 an acre of lawn, and I have to charge the lawnmower every time I'm mowing. You can imagine how many times you have to charge it if your yard is bigger.
Although, the lawnmower has a self-propelling feature, it's lacklustre, especially when going uphill or mowing tall grass.
Troy-Bilt TB100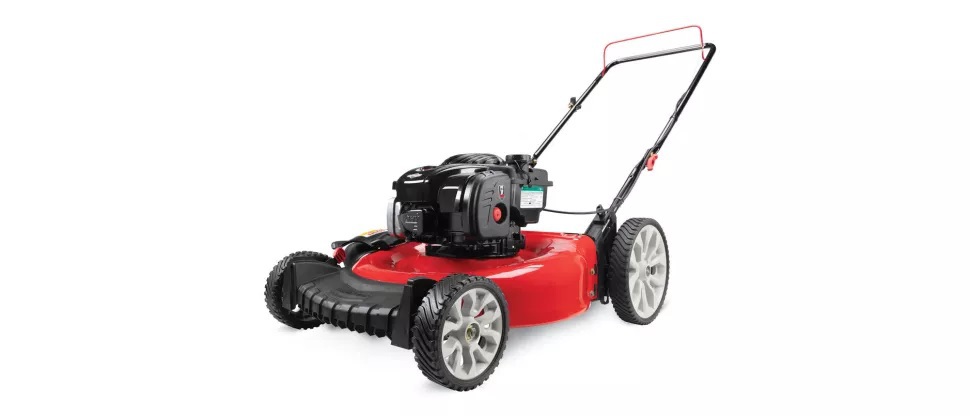 The reason we are discouraging you from going for this lawnmower is because it lacks the features that make mowing fun.
For starters, like the Swisher WB942. It lacks a bag, so when you cut the grass, the cuttings remain on the ground and you have to come back and remove them.
The lawnmower also lacks the self-propelled technology that makes work easy especially when mowing uneven surfaces or going up a hill.
For crying out loud, even the cheapest lawnmowers now have this feature!
Lastly, most parts of the machine are made from plastic. While this makes it light so you can easily maneuver it, it also means the lawnmower can easily get damaged. For example, in the event it's hit by a stone, it can easily crack.
STIHL RMA 370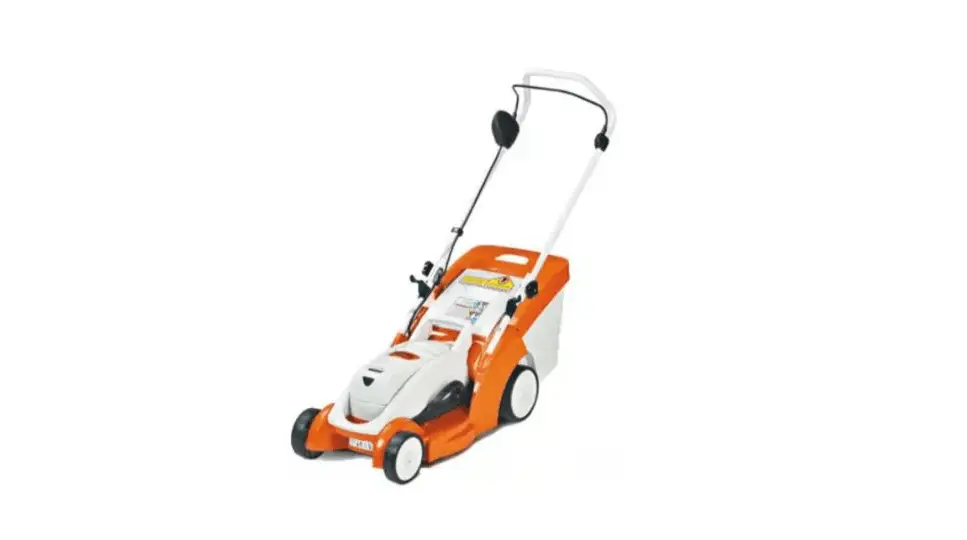 This lawnmower throws convenience right out of the door. Although its small design makes it easy to carry around, you have to put in more time and effort to cut your lawn as its cutting path is too narrow (only 14 inches wide).
The machine also lacks the side discharge so it carries the extra weight of the grass until you empty the bag.
And when you are emptying the bag, you have to deal with the hard plastic bag that digs into the ground forcing you to put more effort when emptying the grass.
The mower has a small rechargeable battery that provides you with 20 minutes of power on a single charge. W
hile this power might be enough if you have ¼ acre or less of grass to cut, it's not enough if you have a large lawn.
McCulloch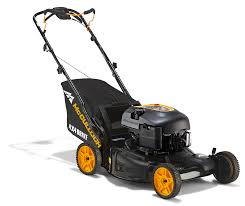 McCulloch lawnmowers are expensive, hard to find repair parts, and the customer service sucks. When you put these flaws together, you have a horrible brand.
Some McCulloch lawnmowers even don't have a drain valve so to change the oil you have to invert the lawnmower, which as you can guess is a lot of work and a major inconvenience.
High-quality lawn mower brands to consider
While there are many horrible lawnmower brands in the market, there are equally many awesome machines you can wish to keep your entire life. They include: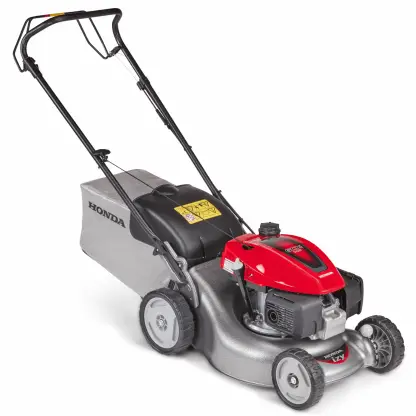 I have a friend that has had this lawnmower for over 10 years and the machine still looks and works as good as new.
Designed for medium to large-sized lawns, the Honda HRG416SK IZY has everything you need to achieve optimum cutting performance with little effort.
The well-crafted self-propulsion system comes in handy when mowing on slopes and rough surfaces.
The lawnmower features the latest Euro-5 compliant four-stroke GCVx engine that provides enhanced combustion while being more tolerant to lower quality fuels.
The lawnmower also comes with a large 42 liter capacity grass bag that not only removes the clippings from your lawn, but also reduces the frequency at which you have to stop and dispose of the clippings.
The grass bag is designed to maximize airflow and at the same time enhance the collection performance.
The unique thing you won't find in most lawnmowers is the intelligent blade design that twists when it hits an obstacle instead of breaking. This comes in handy at extending the life of the lawnmower.
To show how much confident Honda has in its products, it gives you a five-year warranty.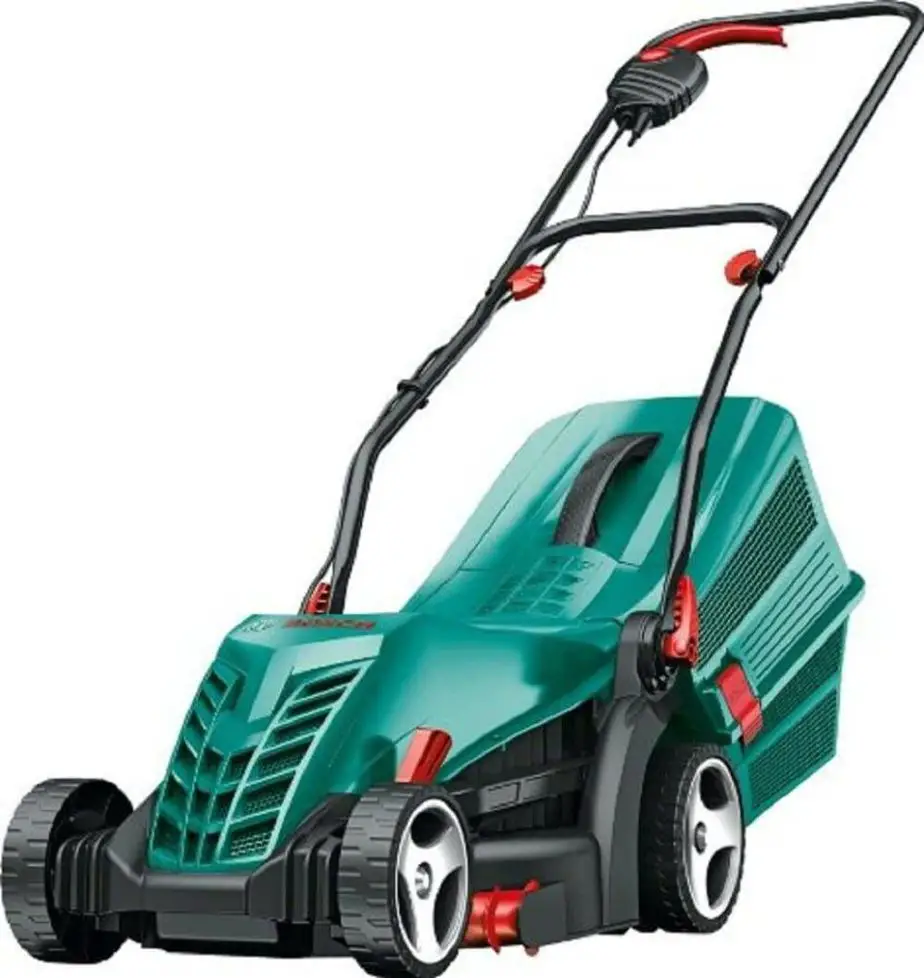 Bosch has a reputation for high-quality machines and it doesn't disappoint with the Bosch Rotak 34 R.
Intelligently designed for maneuverability and practicality, the Bosch 34R has a compact design that makes it easy to maneuver around common garden obstacles when mowing.
The machine boasts a 10-meter cable that includes a 1300 watt motor enough to cut even through the densest lawns. It comes with a high quality easy to sharpen metal blade that makes it easy to get a nice short, clean cut.
While the lawnmower is great, you should note it's designed for small lawns, so if you have a larger lawn, you may have to look elsewhere.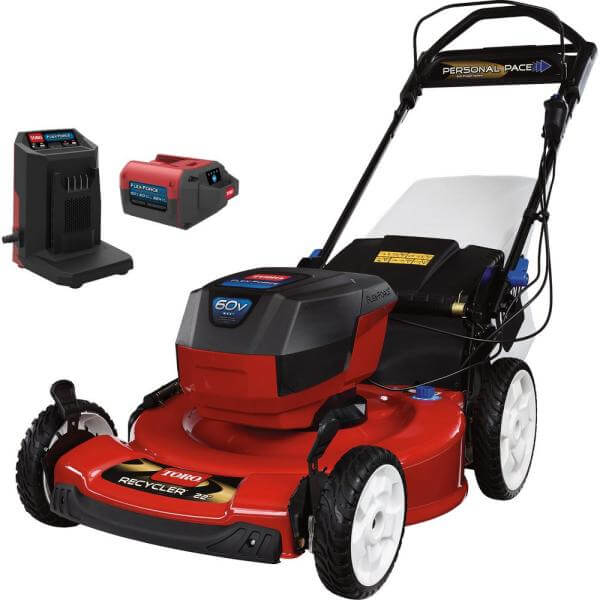 Featuring a high quality, user-friendly design, the Toro 20340 is one of the best lawnmowers in the market you can go for.
Unlike other lawnmowers that have one set speed, this machine allows you to set your desired speed so you can enjoy mowing at your speed.
To ensure you are as comfortable as possible, Toro gives two different handle heights and all you need to do is to choose the one you are comfortable using.
The machine also allows you to choose your cut. You can choose the height you want to cut your lawn from the 9 cutting positions.
The machine comes with a fuel stabilizer that stabilizes the engine to ensure the mower lasts for a long time.
Once you are done with your mowing, the mower's compact shape makes it possible to store it even in a tiny space. You can store the machine anywhere in your garage or shed.
Greenworks 19-Inch 40V Cordless Lawn Mower
Greenworks 40V 19-Inch Cordless (3-In-1) Push Lawn Mower, 4.0Ah + 2.0Ah Battery and Charger Included 25223
CORDLESS LAWN MOWER – Get more done, faster, with Greenworks electric lawn mowers. This 40V push mower provides up to 60 minutes of run-time on a fully charged 4.0Ah and 2.0Ah battery (varies based on grass condition and operator technique)
DURABLE 19" STEEL DECK – The 19" steel deck allows you to handle large areas of grass quickly and easily
VERSATILE – Single lever, 7-position height adjustment for the best cut in all environments. The 3-in-1 design allows you to mulch, side discharge, and rear bag grass clippings
Last update on 2022-07-28 / Affiliate links / Images from Amazon Product Advertising API
Some have described it as a hidden yardmaster. With a three in one feature offering side-discharge, mulching, and rear bagging, this lawnmower has all the features you find in a high-end lawn mowing machine, but at a fraction of the cost.
Since its electric, it's quiet with some people saying it's quieter than their bathroom fan so you can mow even in the early mornings without annoying your neighbors.
The mower is also lightweight so you can easily maneuver it around the yard. I have a friend confined in a wheelchair and he uses this machine without any problem.
Finally, the machine comes with a single spring-loaded lift mechanism that comes with seven cutting height positions. All you need to do is to adjust the lawn mowing blades to your desired height and clear your yard.
Although the deck is tough and expertly designed, at 19 inches it cuts the grass too narrow which can be off-putting to some people. The narrow cut also leads to time wastage.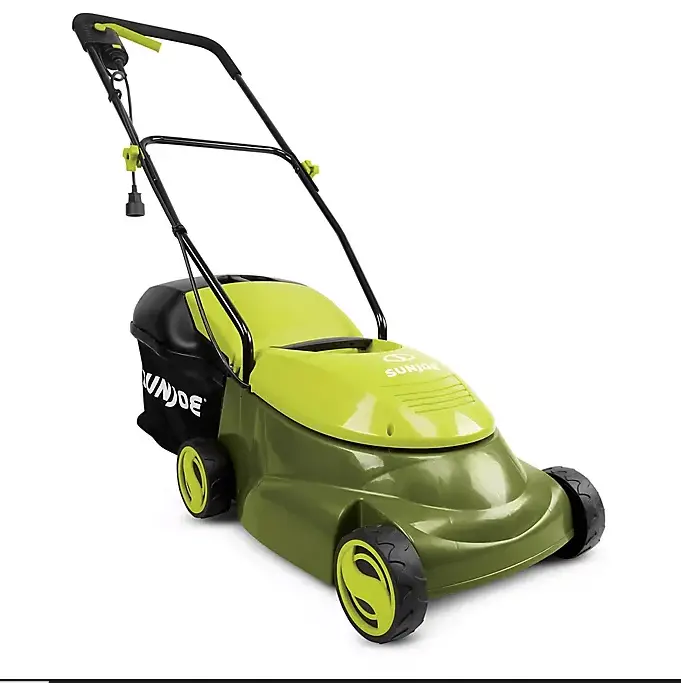 Looking for a quality lawnmower but don't have the money to buy a high-end machine? This Sun Joe electric lawnmower is the way to go. Going for less than $100, it can't get better than that.
The lawnmower weighs only 29 pounds so it's light and easy to move around. When many people come across a cheap product, they have the impression it won't last long enough.
Not with Sun Joe. To show you how much it believes in its products, the brand gives you a two-year warranty on the lawnmower.
While the machine is great and a no brainer for anyone looking for a top-quality lawnmower on a budget, the 14-inch blade isn't right for large yards.
If you have a medium to a large-sized lawn, it will take you a long time to complete the mowing which can be a pain in the ass especially if you have other activities to attend to.
Due to this shortcoming, the Sun Joe is best for those with smaller yards.
What should you look out for when buying a lawnmower?
To avoid buying the wrong lawnmower you should consider a number of things:
Type of lawnmower
There are all types of lawnmowers you will come across. There are electric, gas, and manual reel mowers. The lawnmower you go for solely depends on your preferences.
Gas-powered mowers are the most popular, and many homeowners love them for their power and convenience. Unfortunately, they are noisy and pollute the environment.
Electric machines can be corded or cordless.
They are quieter so you can mow without waking the toddlers and neighbors, they release low emissions, and when properly maintained, they are reliable.
Unfortunately, you have to charge them and they have limited run times.
Reel mowers are unpowered so you have to use your physical effort to push them. The good side is you don't need to put in gas or charge them. They are also reliable when you properly maintain them.
Since they are small and unpowered, these machines are suitable for tiny yards.
Push or self-propelled
The other thing you need to consider is whether the lawnmower you are looking to buy is push or self-propelled.
From its name, a push lawn mower is one that requires you to exert physical effort to move it, especially in hilly or uneven surfaces.
Self-propelled mowers move on their own, even on hilly areas, so you have an easy time mowing.
Self-propelled lawn mowers come at different speeds. Single-speed machines move at a single pace, often between 1 and 3 MPH.
Variable-speed lawnmowers on the other hand operate at more than one pace, and all you need is to set them to your preferences.
Cutting deck
When you are mowing, the grass clippings can be expelled in three different ways: bags, side discharge, and mulching.
The bags collect the clippings so you have a clean yard. Unfortunately, you have to go through the trouble of emptying them.
The side discharge mowers send the grass clippings back onto the grass. Although, convenient, it's messy as you are left with a dirty lawn.
Mulching mowers cut the grass clippings into small pieces before they spit them back onto the grass.
It's up to you to weigh your options and buy the machine that you feel gives you the most.