How Much Does A Pallet Of Sod Weigh?
Compared to seeding, plugging, springing and other lawn planting methods, installing a sod lawn carries the crown due to the many benefits it comes with.
Sod produces an instant lawn, requires little irrigation, prevents soil erosion, and makes for a denser lawn.
Installing a sod lawn is a no brainer when you have the budget, unfortunately, sod is heavy and challenging to haul, so you will often hear homeowners asking, how much does a pallet of sod weigh? And can my truck carry it?
I will address all this in this article
Pallet sizes
For easy storage, sod is sold and transported in pallets. Full pallets of sod come in three sizes: 400, 450, and 500 square feet sod pallets.  The pallets are made from wood, but the type of wood and size varies among companies.
Pallet weight
The weight of the pallet will vary depending on the type of sod and type of pallet. Pallets that hold many pieces will be heavier than those carrying fewer pieces.
The amount of soil added underneath the grass will also impact the weight of the pallet. If the sod manufacturer adds more soil, the pallet will be heavier and vice versa.
You should go for grass with a thicker soil layer as it's more likely to grow better and be healthier before and after you put it down.
The amount of water in the sod will also influence the pallet weight. If sod has a high moisture content, it will be heavier.
So, how much does a standard pallet of sod weigh?
A standard 50-yard pallet of grass will have 100 pieces (each weighing 15-30 pounds) of grass measuring 16" by 24" and covering 450 square feet.
From the figures above, we can say a pallet of sod weighs 2 000 pounds. Of course, larger pallets made from heavier wood and with thicker layers of soil will be heavier.
The most you can expect a pallet of sod to weigh is 3 000 pounds.
Can my F-150 haul a pallet of sod?
If you are a typical American, you have an F-150 or a Toyota Tundra. These trucks are rated to haul 800-1200 pounds, which is not enough for a full pallet.
If you insist on using your F-150 to haul the grass, I advise you to haul no more than half a pallet as hauling more than this will damage your vehicle.
If you want to haul the entire pallet in one go, get a trailer.
To haul a full pallet at once, you need a full-size truck such as a three-quarter-ton and one tone pickup. If you have a tandem-axle trailer with four wheels, you can safely haul two pallets.
If you want three or more pallets, use a large heavy-duty trailer.
If you aren't sure of the right vehicle to use to haul your sod, call the landscaping company and understand the type of sod they have.
Sod pallet facts you should know
Sod pallets come in three main sizes: 400, 450, and 500 sq. ft.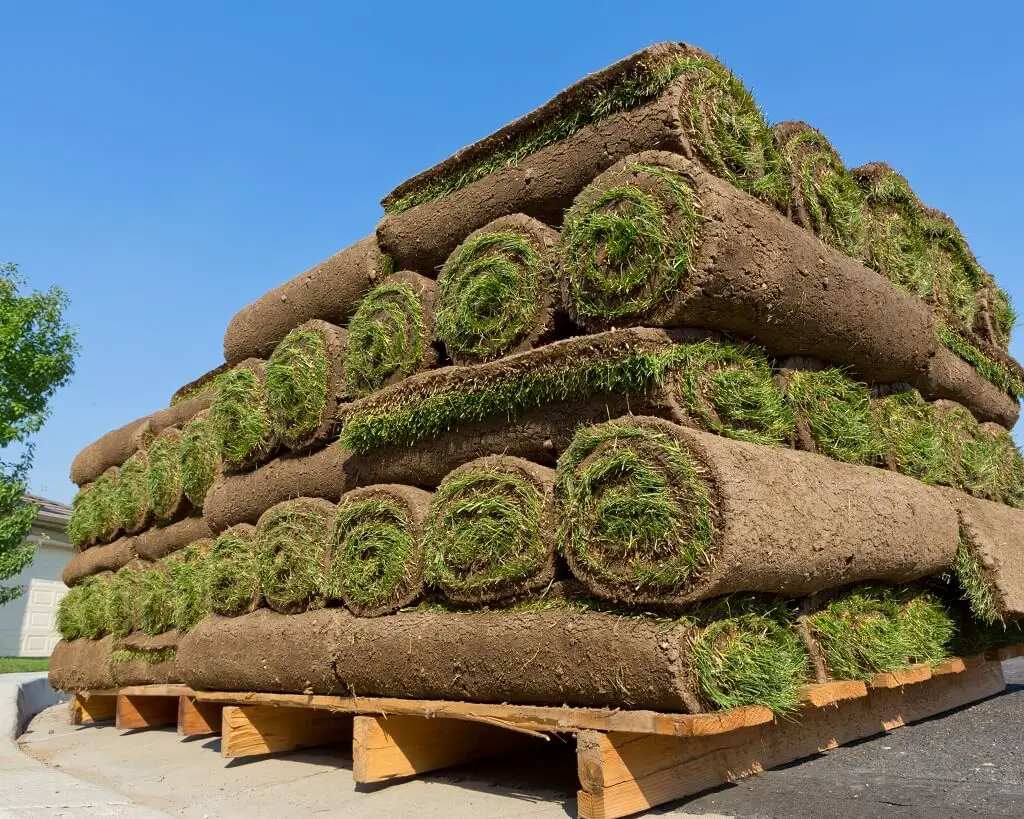 Sod pallets in the Northern United States
Sod in the northern United States is sold in mini hand rolls and large rolls. The mini hand rolls are 40" by 18" and cover 5 sq. ft each.
You will find 80 of these on a 400 sq. ft pallet, 90 on 450 sq. ft pallet and 100 on a 500 sq. ft pallet.
The large rolls come in two sizes: 60" X 24" and 80" X 18". Both of these cover an area of 10 sq. ft per roll. Most landscaping companies will sell them in 500, 600, and 700 sq. ft pallets.
Sod pallets in Southern America
Sod is sold in slabs of three main sizes: 399, 452, and 503 sq. ft.
Knowing the type of pallets you have in your area is vital as it helps you determine the right type of truck to use in your work.
Tips to consider when hauling and trailering sod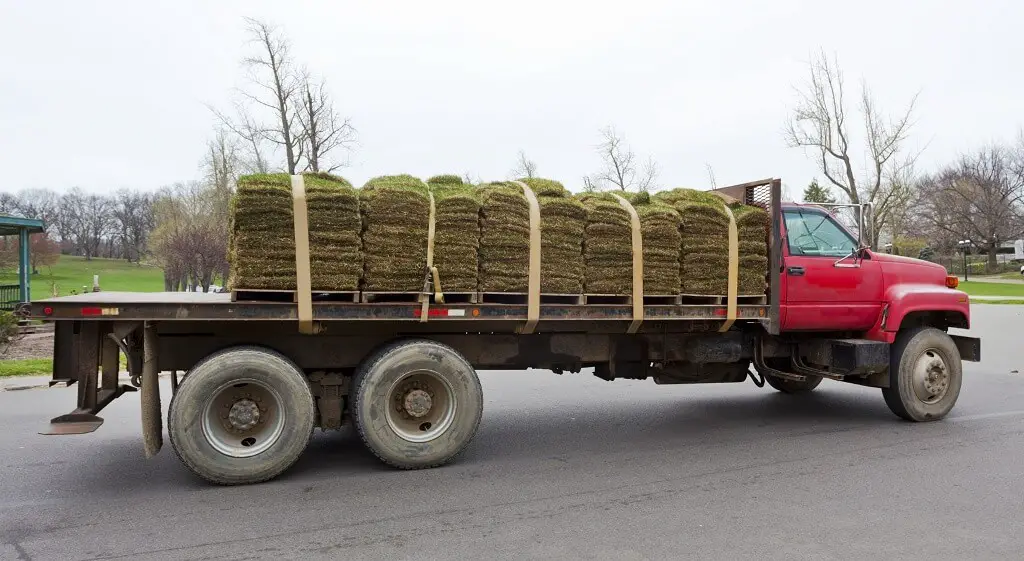 If you have the means to pick up sod, to save time and money, you should pick the sod by yourself from the sod company.  For safe and efficient hauling, consider these tips:
Your vehicle should be able to haul the load safely. Remember, a full pallet of sod (500 sq. ft) will weight 2000- 3000 pounds, so ensure your vehicle can carry the weight.
If using a trailer, ensure your vehicle can pull the loader trailer. Your vehicle should also be designed to pull the loaded weights.
The trailer should also be designed to hold the weight you are looking to haul. Before loading, check the tires and ensure they can handle the weight.
When using the trailer, properly rig the safety chains to the tow vehicle. Don't rig it to the hitch or ball.
Always carry something to tie down the sod on the pallets. Some of the best materials to use are ratchet tie-down straps.
As you are hauling the sod pallets, regularly inspect them and ensure they are securely in place.
Looking to order sod? A few facts you should know
Sod quickly knits with soil giving you a beautiful lawn in a few days. To increase chances of survival, lay it within 12 hours of harvesting or 2 hours after delivery. Don't leave sod stacked on pallets for more than 24 hours.
If you have to store sod for a longer time due to inclement weather or any other reason, cover the pallets from the sun and water them.
To store sod more than a few hours before laying it, lay it out flat and keep it watered, so it doesn't dry out. Don't leave sod rolled or stacked on pallets for too long as this can cause fertilizer burn or even kill the sod.
To ensure the sod quantity covers waste from edges, curves, corners, and a few defective pieces, add 10% to your calculations.  In short, place a larger order than you anticipate using.
To increase the chances of sod growing in your area, get it from growers within 50 miles of your site. This way, you are sure it has been growing in conditions similar to those in your property.
Getting sod near your home area also prevents sod from overheating on pallets during transportation.
Before deciding to buy sod, visit a few sod farms in your local area. While on the farm, carefully inspect the quality of sod being harvested.
Does it have thatch? What about weeds? Does it have a uniform appearance with good color?
If the sod is being delivered, count the pallets delivered. Each pallet should hold about 50 square yards of sod. Also, take a look at the soil the sod is attached to. It should be uniformly ¾ to 1 inch thick and moist, but not soaking wet.
If the grass is dormant, check whether the soil is moist. If wet, it means the turf is healthy, and grass will come back once the dormancy breaks.
When buying the pallets, remember that sod farms charge a pallet deposit and will pick up the pallets once you are done laying the turf. Make it easy for the company to collect the pallets by stacking them in an easy to access area.
Don't lay dried out or damaged pieces as they won't grow.
Should you pay for sod delivery?
If you have a large area and looking to get several pallets, I highly recommend you pay for delivery.
On the other hand, if you want just one pallet and getting it near your home, you can use your truck and haul the pallet on two trips or use a trailer.
Some people advise you to place the load on the axle, but I wouldn't recommend this as this can cause car handling problems increasing the risk of causing accidents.
To avoid an unnecessary headache, spend some money and hire a delivery company or even the sod manufacturer to deliver it for you. If you are in a hurry to get the sod on the ground, rent a trailer and use it to pick your sod.
Finally, how much does a pallet of sod weigh? It depends
As mentioned above, a pallet of sod weighs between 2,000 and 3,000 pounds depending on a variety of factors such as the amount of soil, the moisture in the soil, type of wood used in making the pallet, and many others.
A standard truck can't haul the entire pallet in one go, so if looking to carry many pallets, hire a delivery company, or hire a trailer and use it to do the work.
After getting the sod in your property, lay it as soon as possible, and take good care of your new grass for green, healthy grass, you will be proud of for years.