Best Lawnmower for Steep Banks
Although green and lush steep banks are beautiful to look at, they are labor-intensive and dangerous to mow.
A great idea would be to rent a few goats to eat the grass growing in the inaccessible areas, but goats are browsers, so they won't do a good job.
To have a smooth even lawn, the best way out is to mow it, but not all lawnmowers can get the work done.
Some might be too heavy that they are too cumbersome to control the steep bank, others might be too powerful or too weak to operate on the steep areas.
Due to this, it's imperative you take your time and find the best lawnmower for steep banks.
Don't mow if the bank is more than 45 degrees.
Before you rush to the stores to find a lawnmower, you should note that most lawnmowers will work properly if the steep is less than 45 degrees.
Anything steeper than 45 degrees will be too steep that the petrol lawnmowers will cut out on you.
If the bank is above 45 degrees steep, don't bother with a lawnmower. Instead, get a string trimmer.
If using a string trimmer, also get a long quality rake that will allow you to collect the grass while standing so you don't strain your back too much.
Don't use the Flymo on a rope trick
If you have been researching for ways to cut grass in steep banks, you must have come across the Flymo on a rope trick.
The trick involves the use of a rope and hover mower. You begin by tying the end of a rope around the trigger to keep the mower from running, then stand at the top of the hill with the rope in your hand.
You then walk back and forth along the top of the slope, controlling the mower's direction with the rope.
Don't go with this trick as it's illegal under the health and safety registration as you have to disable OPC (operator presence control). Operating the lawnmower with a rope is also dangerous.
For example, I remember I was new with lawnmowers and I have a steep slope behind my house. I had read that I can effectively mow the lawn using this trick, so I tried it.
Long story short, I slipped and within seconds, my foot was under the mower. Thankfully, I didn't chop off my foot due to the steel toe boot I was wearing, but the boot got a serious beating. In fact, I had to get new boots.
To avoid the risks that come with fly mows, don't go that route.
Get these lawnmowers for steep banks:
Best lawnmowers for steep banks
Husqvarna Automower robotic lawnmower
Last update on 2022-07-26 / Affiliate links / Images from Amazon Product Advertising API
It's better to be safe than sorry and what better way to be safe than to avoid going to the lawn in the first place.
Designed to handle steeps of up to 35 degrees, this robotic lawnmower will effortlessly cruise along your turf without any issue.
To provide it with enough traction and reduce the chances of it tipping over, the robot comes with all-wheel drive technology. You might have the impression that this feature will tear up your lawn, but this isn't the case.
To ensure this doesn't happen, the lawnmower has two connected bodies that interact independently. To keep the robot lightweight, the bodies are held together by a magnesium bridge that sits at the device's top.
You control the lawnmower using an app. You can schedule the mowing times from the app, adjust the blade height, and plenty of other things.
Although, it's designed for large yards of up to 1.25 acres, you can use it to mow any lawn size.
The mower comes with a remote object-detection feature that senses when an object is close by.
When there is an object, the robot begins to slow down to avoid hitting it. In the event the robot doesn't stop early enough, the rubber bumper reduces the impact.
What I like about it
Highly effective at mowing steep lawns 35 degrees and below
Beautiful design
It frees up your time.
Keeps you safe
What I don't like
Pricey
It can be challenging to set up.
Bosch Rotak 34 R Electric Rotary Lawn Mower
No products found.
If your bank isn't too steep, the Bosch Rotak 34 R makes an excellent choice. The 1300 W power drive motor makes it easy to cut even long grass with ease
Its lightweight nature (11.1 kg) makes it easy to move around, and you can even easily push it up an incline.
The lawnmower has an excellent grass cutter, and the grass box is large, so you don't have to keep emptying it.
The beauty is that unlike many other lawnmowers in the market, it effectively cuts even wet grass.
Once you are done with mowing, carrying it is easy as all you need to do is use the handy and well-thought carrying handle.
In the garage, its compact design and the fact that you can fold it up means it takes just a small space.
Like other lawnmowers, you have to regularly sharpen the lawnmower blades to have an easy time keeping your lawn clean and tidy.
Pros
Lightweight
Powerful
Easy to assemble
Cuts even wet grass
Cons
A poorly made switch mechanism
Made in China
WORX WG163 GT 3.0 20V PowerShare 12″ Cordless String Trimmer & Edger
No products found.
Is your bank over 45 degrees? Don't put your life at risk. Instead, use this string trimmer and edger.
The trimmer's head tilts up to 90 degrees so you can easily trim and edge your sloped yard and the uneven patches of the lawn.
Weighing only 5.3 lbs, you can trim and edge your yard without getting tired.
How to use it
While the trimmer is powerful, you should note that it's not designed to take on a lot of unmaintained grass.
While it can cut the long grass, you will drain the battery too fast. For best results, use it to trim short grass.
To get an even, controlled cut, position the string trimmer a few inches above the grass level, then slowly lower it to your desired length.
You should hold the trimmer such that the strings hit the grass at a 5-10 degree angle then move from side to side.
Pros
Lightweight
Easy to use
You can roll it along with wheels when fatigue kicks in.
Cons
Flymo Hover Vac 250 Electric Hover Collect Lawn Mower
No products found.
What makes the hover mower such a great mowing machine is its lightweight.
The hover mower works by creating a cushion of air between the lawnmower and the lawn.
When the mower's fan revolves, it draws the air in using air vents located in different parts of the mower.
The air is drawn to the center of the fan, and since the fan is rotating, the air is pushed down, creating a high air pressure under the machine.
This pressure creates a lift raising the mower on a cushion of air, making the mower extremely lightweight and easy to maneuver.
It's this easy maneuverability that makes the Flymo hover mower such a great choice for your steep lawn.
Although, this lawnmower is perfect for your steep bank, you should note that it's most ideal for a small lawn. If you have a large lawn, you need a larger and more powerful machine.
The cool thing is it comes with a grass collecting box, so you don't have to go back to collect the grass or leave your lawn messy.
Pros
Lightweight and easy to use
It cuts the grass fast.
Quiet
The grass collecting box collects the grass leaving the lawn clean and beautiful.
Cons
Designed for small to mid-sized lawns
You have to connect it to power to use it, which can cause plenty of inconveniences.
Bradley 48″ hydro walk-behind mower t bar Briggs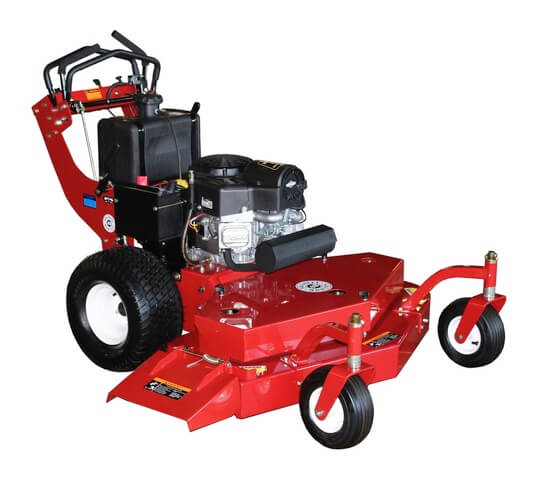 Is the bank you are looking to mow encroached with tall unkempt grass? If you have the budget, go for the mowing beast Bradley 48" hydro walk-behind lawnmower.
Built like a tank, this mower will mow almost any type of lawn without any issue.
The 48" mowing deck means you will be cutting a huge chunk of grass on every pass, so you will spend less time on the lawn.
From the look, the lawnmower is built to last, so you can expect it to last for decades as long as you take good care of it.
While the machine is great, it's heavy hence difficult to control in the sloppy areas.
Pros
Powerful
Durable
Easy to operate
Will cut any grass.
Durable
Cons
Heavy
Pricey
Difficult to change the mowing height
Spider lawnmowers are specifically designed for use in extremely sloppy areas (where they are able to climb slopes of up to 55 degrees, so you can't go wrong with them.
The lawnmowers are also lightweight and feature a low center of gravity, which significantly reduces the risk of erosion on steep slopes.
The four-blade mowing mechanism ensures you get a perfect cut, and you have an easy time handling the sloppy area with overgrown grass.
Since the lawnmower is remote controlled, you stay away from the sloppy areas, so you don't put your life at risk.
Pros
Highly effective
Remote controlled
Cons
Sheep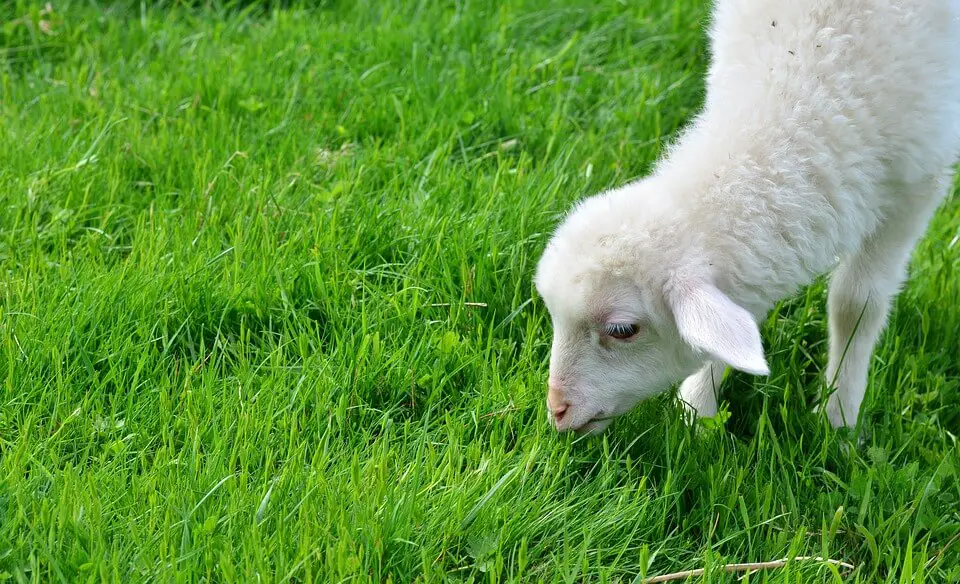 If you don't have money to buy the best mower for steep slopes, you should get a few sheep and place them in the sloppy banks.
No, you don't need to rare the sheep. You need to rent them from websites such as http://woolyweeders.com/ and many others.
Tips when mowing steep banks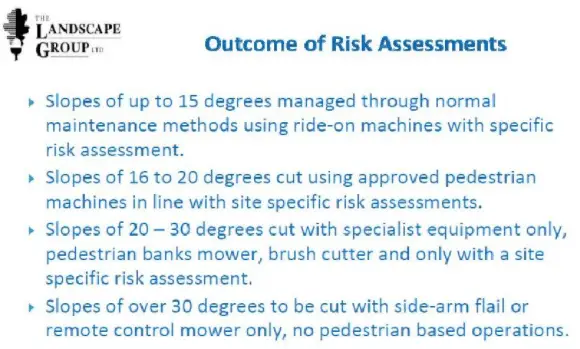 If your bank is less than 45 degrees steep, you can go ahead and start mowing, but you need to be cautious, so you are safe.  Some of the tips to consider include:
Never mow when it's wet.
Regardless of how much you want the grass out of your lawn, you should never mow when it's wet.
Remember my story above, my lawn isn't even that steep (about 20 degrees), and I slipped because it was wet.
To be safe, always wait until it's dry. Many homeowners rush to mow early in the morning.
While it's good as you get the work done as early as possible, sometimes the grass is wet and slippery at this time.
If you get to the lawn and find it wet (regardless of how small it is), don't mow. Wait for it to dry.
You are better off waiting a few minutes or hours than end up in a wheelchair or on a hospital bed, right?
Go up and down when using a lawn tractor.
If you have a large lawn, using a lawn tractor makes sense as you complete the work fast, but you need to be cautious.
The tractor is heavy and can tip over, so avoid mowing the lawn sideways unless the steep is 20 degrees or less.
Instead, mow upwards and downwards. If the steep is more than 20 degrees, mow upwards only.
At all times, keep both of your hands on the wheel.
Brake the push mower when going downhill
Some people might find you chicken when you do this, but it's better to be safe than sorry.
If using a push mower, brake out the mower for anything that starts feeling even the least bit tippy.
This way, you have fewer chances of losing control of the lawnmower. There are also minimal chances of causing an accident.
Strap on a pair of cleats
The purpose of cleats is to add extra traction, so you have better footing and reduce the risk of slipping.
You can use soccer cleats, cricket cleats, or any other. As long as they provide you with extra traction, you are good to go.
Keep the mower deck high.
You should note that the higher the mower deck, the more difficult it is to push the lawnmower around. To make it easy, set the deck high.
Cutting the grass high has also been shown to slow down the rate of grass growth, so you don't have to cut the grass too often.
You also have an easier time controlling irrigation and overall grass health.
If the area has thicker grass, setting the deck high also provides the extra traction you need to keep the lawnmower wheels on the ground.
Push the lawnmower laterally.
If using a push lawnmower, don't go up and down the sloppy area as you risk losing your footing. Instead, mow the grass laterally.
In addition to this being safer, you also spend less energy on the task.
To be even safer and more efficient, mow sideways but lean more towards the vertical axis.
This way, the mowing lines appear like you are going up and down but emphasizing going side to side.
This keeps the mower steady, and at the same time, it ensures you are in full control of your body and footing.
Dealing with extremely sloppy areas
As we have seen, cutting grass in sloppy hills is dangerous. To reduce the risk, you should come up with great ideas on how to control the steep.
Some of the things you can do include:
Do terracing
If you are going to stay on the property for a long time, build terraces and grow flowers or other things on the terraces, then mow the flatter areas.
Plant perennial plants
If the slope is too steep that you are having a problem, maybe the area shouldn't have grass.
Instead of grass, plant perennial plants with good root systems stabilize the soils and reduce the grass there.