7 Of The Best Chairs For Fire Pit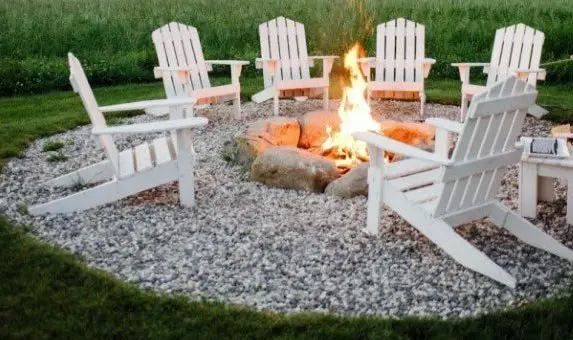 Last updated on May 22nd, 2020 at 12:16 pm
If you have a fire pit and you love spending time there with friends and relatives, you should get fire pit chairs. There are all types of outdoor fire pit chairs ranging from primeval to contemporary that you might be confused about the right one to buy.
To guide you through, here are some of the best chairs for fire pit you should go for:
Made of polystyrene composite, this is the perfect chair for those that are busy and looking for easy-to-maintain outdoor chairs. The chairs are UV protected, so you won't have to worry about them fading after a few seasons.
This isn't your typical one season chair. The Adirondack chair has a sturdy construction that is guaranteed to last for a long time.
The chairs are beautiful, so they significantly improve the look of your fireplace. They are also comfortable as they are designed to accommodate any person, regardless of their size. If you are big, the chairs relax, giving you an allowance.
Unlike with wooden outdoor chairs, this chair won't warp, splinter, or rot. You also don't need to paint or varnish it since they look like real wood you get the beauty of the wood without the maintenance.
While the chairs are great and will last for years when you don't expose them to extreme conditions, they stain easily. So if you have animals and birds near the fire pit, consider covering the chairs when you aren't using them.
You also should avoid applying makeup and other products on the chairs. When something pours on the chairs, remove it immediately before stains form.
Many homeowners have cited that the chairs are difficult to assemble. Even if they come 60% assembled, you still have to dedicate some time to put in the screws.
Luckily, the manufacturer has put together a video that details every step of the way.
Featuring two chairs and a side table, the Keter Rio chairs make excellent fire pit chairs for that comfortable seating time.
Weighing only 34 pounds, you can easily move the chairs from one place to the other. The deep brown color easily hides stains, so you don't have to be ultra-cautious when using them.
Most of the outdoor fire pit chairs don't have a cushion, but these have one plus the tilt-back feature that makes them ultra-comfortable.
Their compact size makes them an ideal set for those with a small backyard. You can also place the chairs in any area of the fireplace, courtesy of the manageable dimensions.
You can also even mix them with other types of fire pit chairs without looking out of place.
The polypropylene material used in making the chairs gives you peace of mind that the chairs will last for a long time. The material also doesn't rust, so you don't have to worry about them rusting.
This means you can leave them outside even during the wet months of the year without any worry.
Although the chairs have a low profile design, and excellent for those intimate fire pit conversations, some people find them hard to assemble.
If you like the look and feel of real wood, you should go for this chair. Made from cedar wood, the chair is durable, and insect and rot-resistant.
When you buy the chair, it's shipped to you unassembled, and it's up to you to assemble it. You need a drill, drilling bit, 3/16 drill bit, socket wrench and rubber mallet or hammer to join it.
How long it takes to assemble it depends on your expertise.
Some homeowners have found it hard to handle the assembly, while others have reported it being a piece of cake.
You can leave the chair unfinished where it weathers to a grayish or silvery color or finish it to any color of your desire.
It's made in the USA so you can have peace of mind that it will stand the test of time.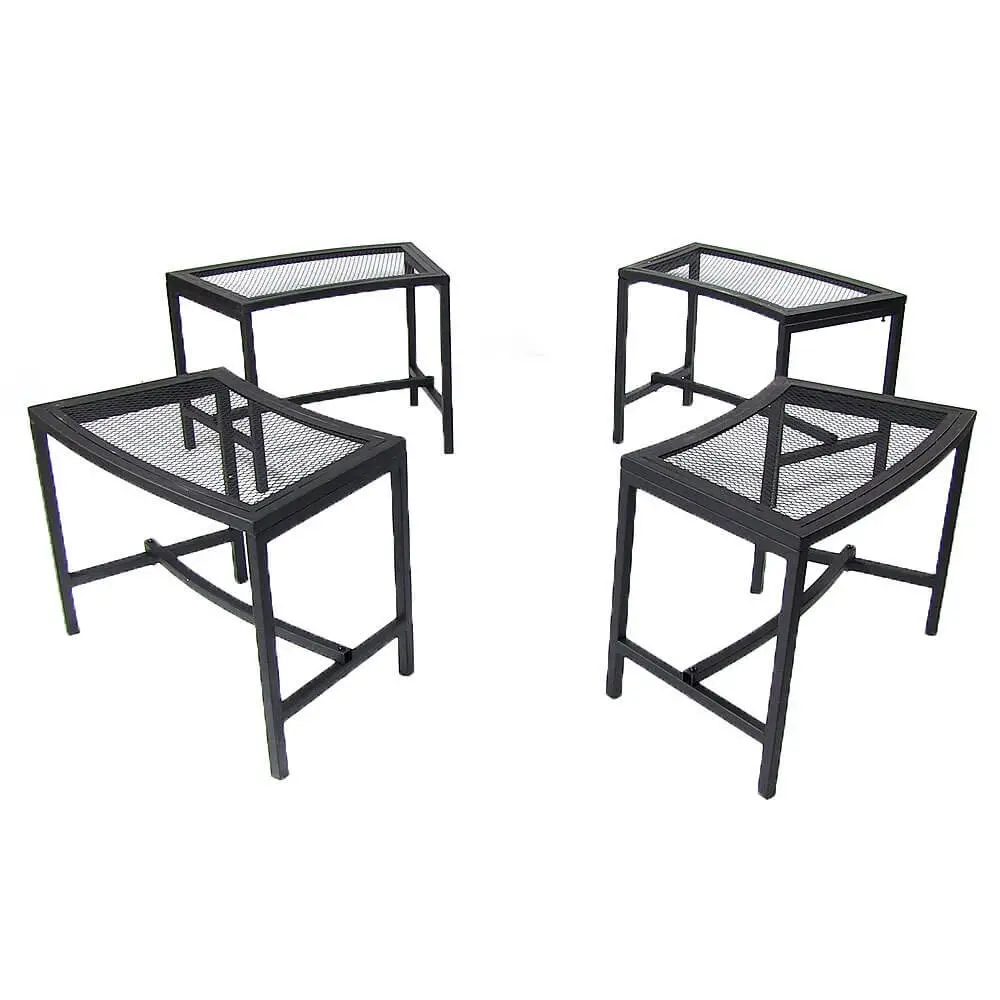 Sunnydaze has an excellent reputation for making high quality home and yard products, so you should trust a product from the manufacturer.
Measuring 23 inches long, 13 inches deep and 16 inches tall, the Sunnydaze pit bench provides the perfect place to sit around the fire pit.
If you don't spend a lot of time around the fireplace, you should give these a try as they are light, comfortable, and durable.
If you love spending hours on your fireplace, these aren't the best to go for as they don't have back support; hence you would have a place to lie on.
Although, they have a simple design, they have a sturdy metal construction so you can have peace of mind that they will last for a long time.
You can use the bench anywhere, but the best place to use it is around the fireplace as it blends well with the unit.
Unlike the other fire pit chairs, this bench is easy to put together. You don't need handyman skills to do it.
You can use them as sitting benches or as tables. You can sit on the mesh or place a cushion on them to increase your comfort.
Before buying them, you should note that the mesh has a weight capacity of 330 pounds. While the mesh looks thin, it can comfortably carry the weight but take care to load it more than it can carry.
Featuring a breathable mesh backrest, and padded armrests, the GCI firepit rocker ensures that you have a great, comfortable time around your fireplace.
The easy fold technology makes it possible for you to carry the chair from the store to the fireplace easily.
You can also use it at the beach, camping, fishing, watching sports, tailgating, or any other place you might want to have a good time at.
Each chair weighs 12.1 pounds, and when open, it measures 25.6 x 24.4 x 33.1 inches, which isn't overly bulky, so you can easily carry it to your desired destination.
With a seat height of 14.8 inches and constructed from high quality, lightweight and sturdy powder-coated steel, this chair supports up to 250 pounds.
One of the unique features you won't find in other fire pit chairs is the locking action that improves your comfort and ensures that you are as relaxed as possible.
If you love taking drinks while at the fireplace, the chair comes with a beverage holder that is attached to the leg of the chair, this eliminates your need for fire pit tables.
When buying the chair, you should note that it sits low. While this might be comfortable for some people, it might not be for you, especially if you have knee or leg issues, or you simply don't like a seat that is too close to the ground.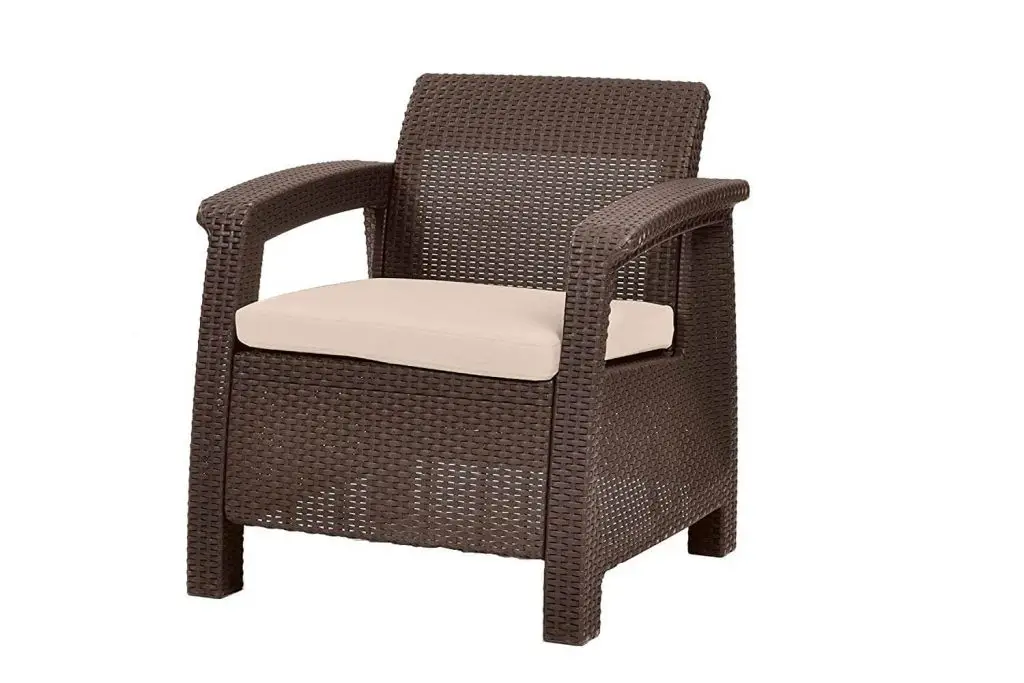 Would you love to recreate your sitting room around the fire pit? This chair will help you achieve it.
Made from durable weather and UV resistant Polypropylene resin, the Charcoal Corfu can withstand the severe weather, so you have peace of mind that it will last for a long time.
The chair also comes with thick weatherproof seat cushions that are comfortable so you can be by your fire pit for a long time. The ergonomic armrests and seatbacks add to comfort.
Although, the chair looks large and bulky, it's designed for quick and easy assembly without requiring any additional tools.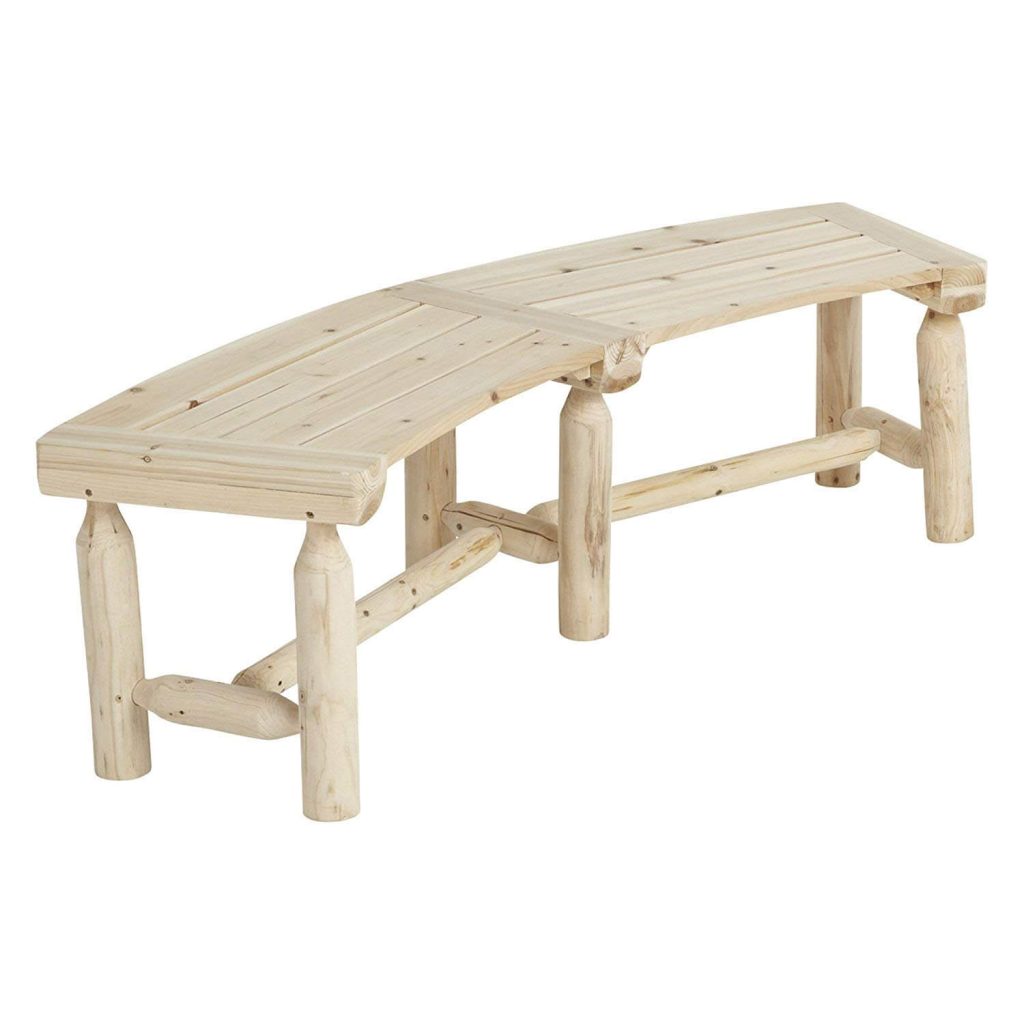 If you don't spend a lot of time around the fire pit and want a simple bench, this is the perfect chair to go for. While you can place it around a fire pit of any design, the curved design makes it the perfect choice for a circular fireplace.
It's made from durable cedar/fir so you can buy it with certainty that it will last for long. The bench comes disassembled. Luckily assembling it is easy.
Some of the equipment you need for the work include: wood glue, drill, mallet, and 3/8" inch hardwood rounded screw caps.
To protect the cedar and preserve it, you should finish the bench by sanding, sealing, and staining it with your favorite stain.
What should you consider when buying a fire pit chairs?
Design of the fire pit: There are oval, round, rectangular and even sunken fire pits. The fire pit chairs you buy should complement the design of your fireplace.
If you have a rectangular fire pit, go with chairs that give the fireplace a perpendicular layout.
Do you have a square fireplace? Go for chairs that match the shape of the fire pit. Large square armchairs make a great choice.
You also should consider the material of the fireplace. If the fireplace is made of fieldstone, buy chairs made from the same stone.
Durability: You want high-quality chairs that are durable and can withstand the harsh weather elements. These are those made from metal, high-quality wood, and covered in top quality leather.
When it comes to wood, go with treated wood that is resistant to rot and water.
Pit chairs made from synthetic wicker are the most ideal to go for as they are tough enough to withstand the harsh weather elements all year round.
Comfort: The reason you are opting to spend time at the outdoor fireplace is that you want to relax. The last thing you want is an uncomfortable chair that will make your life hard.
The best outdoor chairs for fire pits are those that have to cushion and back support that keeps you as comfortable as possible.
Size of family or friends: How many are you in your family? You don't want to have some of the family members sitting while others standing, do you? So when buying the chairs, you should pay attention to the people that will be using the fireplace.
If it's only you and your wife and you don't entertain a lot, there is no point in buying many seats. On the other hand, if you have a large family and you frequently have many friends over, buy many chairs that will accommodate everyone.
Color: To give your fireplace a uniform look, choose a fire pit chair that matches your fire pit color and texture.
Tips to consider when using fire pit chairs
The size of the fireplace should guide you on how many chairs you should place around the fire pit. Allow enough space between each chair so that people can easily move and navigate around the entire fireplace.
To encourage conversation, place the chairs evenly around the fire pit. Each side of the fire pit should have the same number of chairs. Angle the chairs towards each other to induce intimacy.
It's normal for people to eat or drink while at the fireplace, so you should have tables in place. If you don't like having tables, ensure that the chairs have a food/beverage holder.
Firepit chair maintenance tips
Although most of the best outdoor chairs for the fire pit are designed to last for a long time, you need to play your part to extend their life.
If you have resin or plastic fire pit chairs, they tend to get damaged in summer due to constant exposure to direct sunlight.
To protect them, keep them in a shaded area when you are using them.
You also need to clean the chairs. To do it, use a cloth dunked into a mix of warm water and dish detergent. By simply doing this, you will wipe off most of the dirt.
If the chairs have crevices, use a soft toothbrush and gently get the dirt out.
Avoid using tough or sharp materials that can scratch the surfaces. You also should avoid power washing the chairs. After cleaning, rinse off the chairs with water. Also, let them air dry.
Wooden fire pit chairs are elegant to look at, but you need to take good care of them, for them to last for a long time. When buying the chairs, most of them come unfinished. To preserve the wood, you need to stain and seal them.
Wood is notorious for rotting, so you should keep it indoors during the wetter and colder months of the year.
Before you apply any wood treatment, ensure that the chairs are clean, dry, and free of any debris. You can do the application or hire a contractor to help you with the work.