13 Genius Gift Ideas For Gardeners
From protective hats to men's watches and from dependable trousers to sturdy boots, finding the ideal gift for gardeners can be a struggle because they seem to possess every necessary item for gardening.
 To some, gardening is highly likely the last activity they want to perform during the winter season.  However, to people who love gardening, they don't allow the cold to stop them from beautifying their garden.
 So, if you have a family member who loves horticulture, then you might consider giving these lovely garden-friendly gifts.
Gift #1: Birdhouse Garden Stakes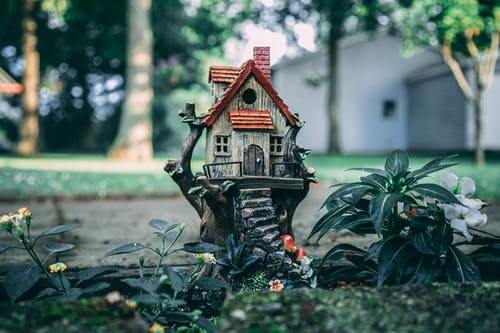 This garden decor will undoubtedly improve the place of your favorite gardener for the Christmas season and provide a charming feel to their outdoor space. 
These handcrafted garden stakes come in many styles, and it's designed with a sculpted bell that gives a pleasant chime whenever the wind blows. The stakes have a flamed metal finish and are 34 inches tall.
Gift #2: Glass+Wood Terrariums
Set a classy scene for your tabletop with a glass and wood terrarium. Design a peaceful greenwood setting, display small tropicals, or create a lovely garden using plants, and add objects like sea glass and pebbles.
 This decor has a wooden support base, and the 3 inches detachable wooden ball top allows you to regulate moisture and humidity levels. This decor comes with plant recommendations as well as care instructions.
Gift #3: Gardening Gloves
Not just for holding roses, these durable gloves are also padded and flexible, which is ideal for gardeners.
Designed to protect its user, the length of these gloves is capable of shielding your arms against poisonous vines, bugs, and thorns. The reinforced fingertips and padded palms make them resistant to puncture.
Gift #4: Bug Stopping Hat
These hats may look like a beekeeper's, but if you've ever tried gardening with the presence of a countless number of mosquitoes, then you will realize that this is an ideal gift to help you protect yourself from them and garden more.
Bug stopping hats provide full facial protection against all kinds of bugs.
Gift #5: Seedling Starter (Self-Watering)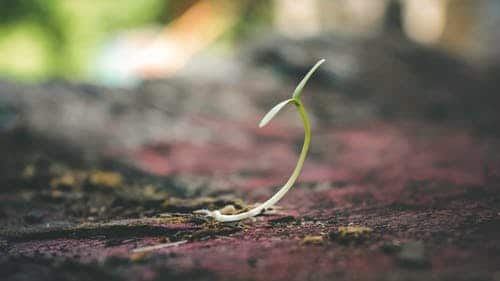 Many gardeners can become particularly excited to touch the dirt even before the spring season comes.
This self-watering seedling starter enables them to start the course indoors before the ideal temperature arrives.
They only have to refill the water once a week, and the terracotta keeps an adequate amount of water to get the seeds started.
Gift #6: A Wristwatch for Gardening


Organizing and decorating consume a lot of time, which gives several gardeners a hard time managing their schedule for other activities, particularly in the holiday season.
Look for a sturdy timepiece that can endure the contacts, bumps, and stress of gardening.
Gift #7: Wooden Garden Trug
Strong, stable, and lightweight are the definition of an ultimate carrying basket. A Garden Trug is a practical item of simple beauty, which can carry herbs, vegetables, and flowers.
Also, it is classic in style, making a charming table basket or countertop.
 Available in two sizes, handcrafted and fastened with durable copper nails, along with natural wood colors with variations of silver grays and tones of yellows, browns, and reds.
Gift #8: Heated Bird Bath
Some people express their thanks to the birds who remain during the cold season. They think that their flashes of tans, blues, blacks, and reds provide them with a needed pause from the icy winter landscapes.
 However, on freezing days, even the tough and winter bird species can have a rough time, particularly in finding places to survive.hat is when a birdbath comes into play.
A heated birdbath supplies warm water to the local birds throughout the winter, and it can tilt for easy draining or cleaning.
Also, some birdbath designs come with a mount, which makes it easier for you to attach it anywhere you like.
Gift #9: Cobalt Koi Garden Art
It is now possible to bring the calmness and vibrant tones of a Koi pond to a garden instantly without the price of a formed water feature and maintenance.
Ceramic garden Koi sculptures will seem to travel through plantings lazily the moment you unpack them.
 Similar to the real thing, these sculptures look fragile but are formed with sturdy clay that has endured at least 2,200 degrees Fahrenheit.
 This strengthening procedure allows them to endure the coldness of winter and hot temperatures of summer while adding bright touches of color to any landscape.
Try purchasing at least three ceramic fish sculptures to convey the idea of movement and arrange them strategically to complete a relaxing setting.
Gift #10: Canvas Tool Belt
Allow the garden lovers to go to their garden with confidence, recognizing they have everything they need to get the task done.
 This durable tool belt is ideal for gardeners and has a 13-inch wide pouch that they can slide to the front for natural access, and the back when they are kneeling or bending.
Three spacious pockets give them plenty of space for seed packets, phone, pruners, and many more.
Gift #11: Living-Roof Birdhouse Kit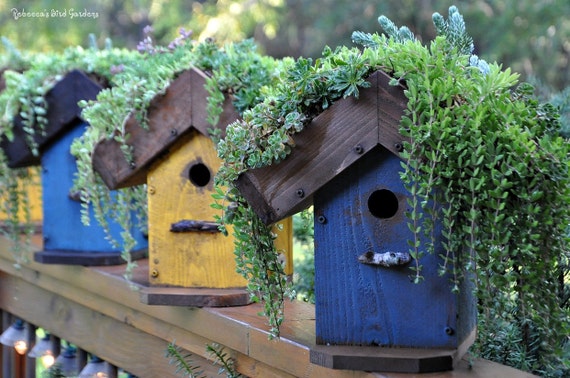 A living-roof birdhouse has a two-in-one feature where it accommodates birds while plants beautify them outside.
This makes it the ultimate addition to a garden that focuses on birds and plants.
If your favorite gardener loves talking about birds in the garden, then this gift is probably the best you can give them.
Gift #12: Triple Calla Lily Stake
This exciting garden stake highlights a trio of sculpted flowers above spherical bells that chime gently as the breezes blow.
Shapely leaves give a sense of abundance, while the flamed metal touch ­casts a delicate, iridescent glow.
Beautiful on its own or when blended with other garden embellishments, this 36-inch tall handcrafted item is sure to be a favorite.
Gift #13: Sweet Heart Planters
Allow plant-lovers to express their passion for gardening by giving them these lovely planters.
They come with cast stone and a Verde finish, these planters are a truly stylish addition to their gardens.
Their shallow bowl also makes them excellent containers for displaying succulents.
In Conclusion…
Although it is winter season, that does not stop the gardening enthusiasts from thinking about the next planting season.
With a wide array of selection for your favorite gardener, you can sure help them prepare themselves to design the most relaxing garden once the planting season comes.